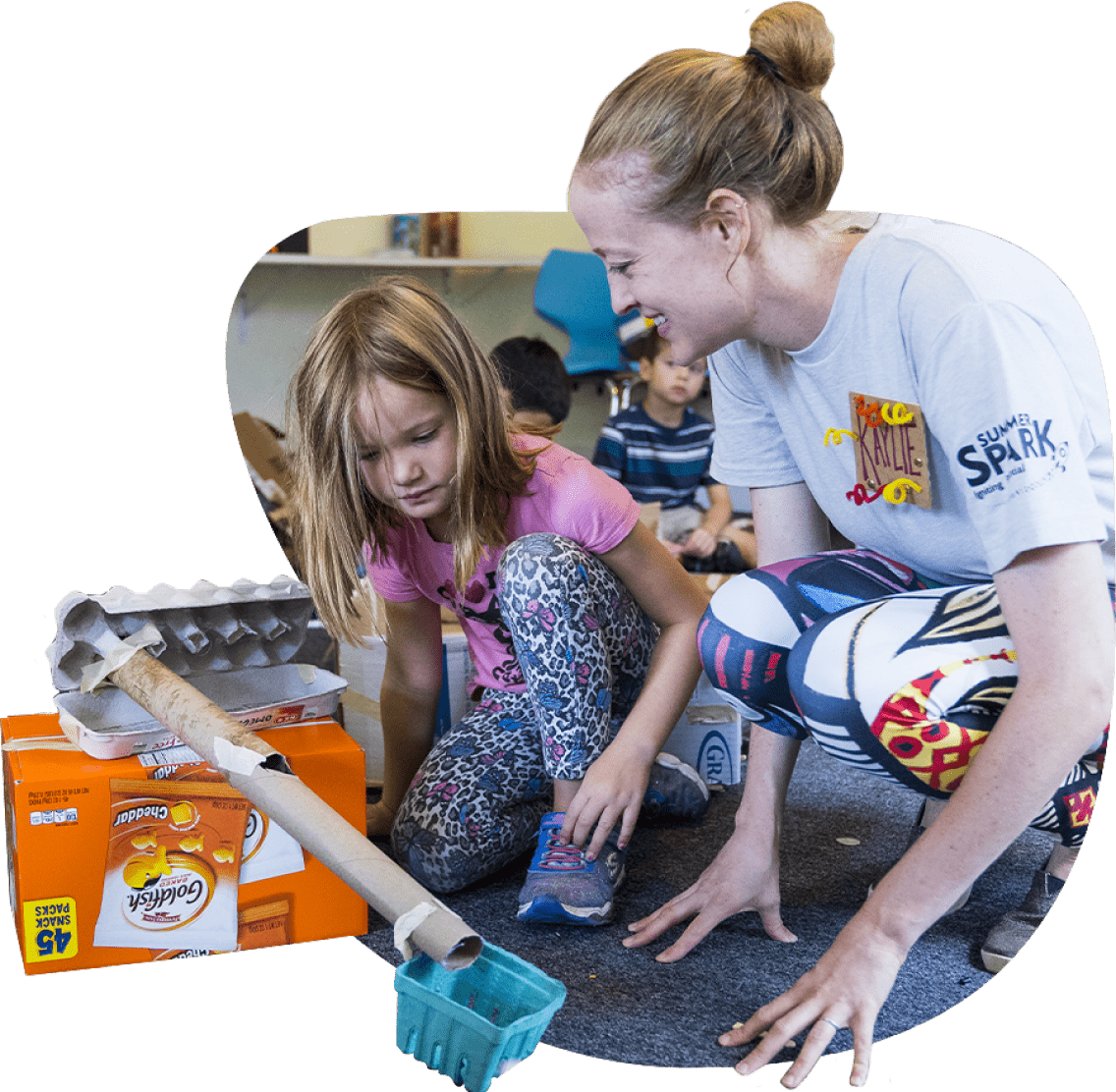 Hands On. Brains On.
IN PERSON SUMMER CAMPS:
June 6 – August 12, 2022
At Neuron Garage, campers get hands-ons, repurposing their recycling to solve fun, weekly engineering challenges. Through the process, they have fun, make new friends, and develop a growth mindset.

Simple Tools + Guided Practice = GROWTH MINDSET


Dates & Hours
Weekly Summer
Camps (Mon -Fri)
8:00am to 3:00pm; Extended Hours until 5:00pm
June 6th to August 12
NOTE: Dates Vary by Location

Ages
Campers are divided into two age groups:

Tinkers: 5 to 7 Year Olds
Makers: 8 to 12 Year Olds
Risk Free Booking
Enroll today to secure a spot. Cancel anytime before camp starts for a full refund.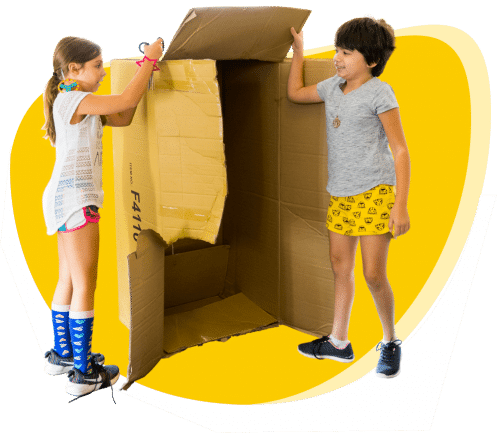 Building Challenges Kids Love!
Your child will have fun building with recycling to solve weekly challenges and will experience the joy of exploring what they can do with their own hands.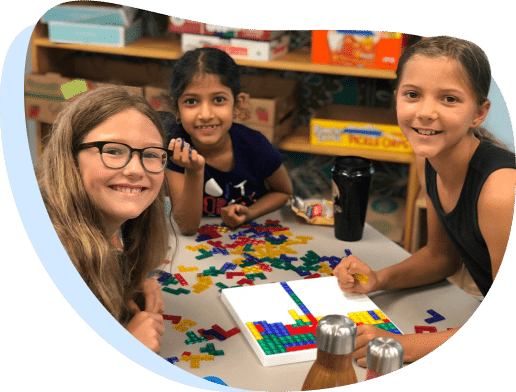 Friendship First
We take extra time on Monday mornings to play together in order to establish a sense of community and make sure that each camper feels connected.
Balanced Days
Days at Neuron Garage are a careful balance between individual and group activity, along with time for relaxation, reflection, and play.


Arrival / Indoor & Outdoor Play

Community Open

Build Time

Lunch

Indoor & Outdoor Play

Build Time

Indoor & Outdoor Play

Community Close

Pick-up Begins

Extended Hours Pickup
New Ways of Thinking.
Your child will be taught our Think > Build > Learn framework. It is simple enough for children to learn and powerful enough to last a lifetime!
The weekly building challenges give your child the opportunity to practice the framework and strategies.
This way of thinking powers a growth mindset which can be applied to life's future life challenges.
Our entire program is highly intentional and grounded in brain science.
Our Framework Is Simple to Learn and Powerful Enough to Last a Lifetime!

THINK
Make a plan. Tap your creativity.
Find inspiration.

BUILD
Get started. Keep going. Manage
your mental state.

LEARN
Get feedback. Find the lessons in
failure and success.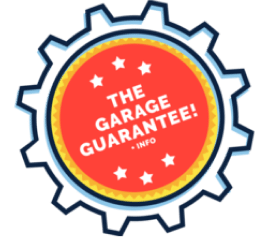 And Your Child Will Want to Come Back...We Guarantee It.
If your child doesn't want to return for a second week, the first week is free. Seriously.
What Our Parents Are Saying
My kiddos were so challenged and more importantly nurtured through the challenges! We'll be back next year!
Our son, age 6, did 4 weeks this past summer. He loved it and asked if he can sign up next summer for the whole summer. We can tell he picked up a lot of great creative and problem solving skills. The staff are great and super supportive.
My 7-year-old son attended three weeks this summer and he loved it. It was the perfect blend of play time and think time.
The boys are doing the AM camp this week and loving it! It has been a really bright spot in their day. Thank you so much for finding a way to make virtual camp fun and engaging.
This is our second year. Last year we did 1 week, and this year 3 wks. My child (9 yo) wishes he could do a 4th week! He returns home so excited to show me what he created! I know he is getting a great challenge in a nurturing environment. Thank you for creating this camp!
Neuron Garage has an amazing mission which inspires the kids. The counselors are mature, treat the kids with respect, and truly care about their development through the summer. The owners are phenomenal and work to make the camp fun and educational each year. This is the first time that my son said, "I can't wait for camp!
My kids loved this creative problem-solving camp. They learned but were having so much fun they didn't know it. The director is smart, creative and so caring. Would definitely recommend.
I am very pleased with the counselor engagement, guiding the kids to push themselves but within boundaries of what they are comfortable doing. My son has blossomed and is engaging with other campers. He has new found self-confidence and is taking pride in the projects he is completing.
My camper loved this camp. It's designed to be fun for her, and I like the big life lessons it teaches that go beyond a week of building.
Our daughter loved her camp experience. She was excited and locked in the entire week — even through the optional sessions. Our experience far and away exceeded our expectations. We would definitely sign up again and highly recommend this experience without reservation. We also loved that you incorporated physical activity, which the children often miss through these online experiences.
I cannot say enough wonderful things about this camp!! It was absolutely my son's favorite camp last year and we will be back this year! We love it!
I can't even describe how impressed I've been with Neuron Garage! My son loves it, and we just signed up for two more weeks. Your facilitators are incredibly engaging, and I'm impressed by the level of social integration you've been able to achieve in just a short amount of time.


LOCATIONS
8 CONVENIENT AUSTIN LOCATIONS
LeafSpring School at Cedar Park
Headwaters - River Campus
Not finding a camp location near you?
Check out our online camp schedule or start a location!
Weekly Challenges
Join Us for One Week, an Entire Session, or the Whole Summer!
Each week presents a new challenge to keep the engagement and effort high, and another opportunity for your children to practice the tools that will help them build a Growth Mindset.
Amusement Parks
From roller coasters and Ferris wheels to carnival rides and games, this session is equal parts play and design. Campers will get hands on, turning trash into treasure, as they construct from cardboard and other materials that would normally end up in their recycling bins.

June 6-10

June 13-17

June 20-24
Secret Agents
Campers team up as Secret Agents this session with a new mission each week. Using cardboard, masking tape, and whatever else they can find in their recycling bins, along with plenty of creativity and perseverance, they will build ziplines, rockets and submarines to transport top-secret messages, facing exciting obstacles along the way.

June 27- July 1

July 4 - 8

July 11-15
Time Travel
With piles of recycling, plenty of tape and hot glue, and a healthy dose of imagination, campers will travel back in time and forward into the future to solve a new challenge each week.
Age Groups
Campers are divided into two age groups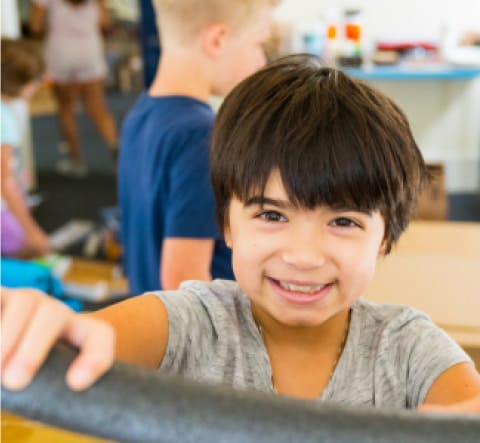 TINKERS
(5-7yo)
The early years at Neuron Garage are focused on nurturing campers' innate curiosity and creativity, while introducing them to the Think > Build > Learn framework. Campers tinker and build with recycled materials as they engage in daily guided projects related to a weekly theme.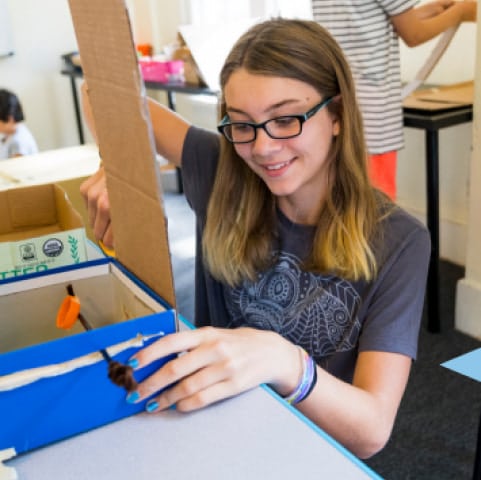 MAKERS
(8-12yo)
At Neuron Garage, our Makers engage deeply in a highly intentional process each week that cultivates a growth mindset. The focus is on learning and applying good strategies as they build each week towards solutions to an openended challenge.
FAQS
IN PERSON SUMMER CAMP FAQS
Some children come for just a week, though many stay for several, and some for the whole summer. We have found that while we can see growth in a child from just one week of Neuron Garage, we have seen much larger gains from children who come for multiple weeks. Last year we surveyed our staff and 95% of them "Agreed" or "Strongly Agreed" that campers who attend two or more weeks of Neuron Garage leave the experience better creative thinkers, collaborators and with more resilience.
Campers should bring a lunch and a water bottle with them each day. We provide simple snacks – Annie's Cheddar Bunnies and Nature's Bakery fruit bars (including gluten-free options). Campers are free to help themselves to one snack in the morning and one in the afternoon and are encouraged to hydrate throughout the day.
Campers should come in comfortable clothes that can get messy. They will be moving around and working with a variety of materials, some of which may end up on their clothing.
Campers will have time outside each day, so if you would like them to wear sunscreen, please apply it in the morning before they come. You are welcome to send them with additional sunscreen to reapply in the afternoon. We will remind campers of this option and do our best to facilitate.
Capacity varies by campus. Each classroom accommodates a maximum of 25 campers.
There will be 1 adult counselor for every 10-15 campers.
If your child does not want to return for a second week, your first week is free. Seriously. Each week at Neuron Garage is another opportunity to practice and apply the tools and strategies that build a Growth Mindset. One week is great, but practice is essential, so multiple weeks are better. We want to make sure that our Campers come back summer after summer and work hard to create a positive experience. The Garage Guarantee is our way of making sure we are delivering on that promise.
Each of our locations is open for campers from 8am-6pm. The core camp hours are 9:30am-3pm, with Extended Hours until 6pm. <br>We have a flexible drop off from 8-9:30 each morning because we know mornings with children don't always go according to plan, and it can be difficult to get everyone up, fed, dressed and out of the house at a precise time. And it's summer, so sometimes a slow morning is just what you need. However, this time at camp is put to great use. If you are able to get here before 9:30, children have the opportunity to connect with each other and the staff on a personal level and enjoy time together. This seemingly casual part of the day is actually a very purposeful way to create community and forge relationships that become important during the challenging, and sometimes frustrating, building times when campers often need to collaborate in order to succeed. <br> The regular camp day ends at 3pm. Between 1/3 and 1/2 of campers are picked up at 3pm, while the rest stay for what campers have dubbed "The After Party". Our goal for this time is that when parents arrive, campers beg for just five more minutes. We believe that campers need some down time in the later afternoon, so this time is a bit different from the rest of the day. During Extended Hours, we take a break from the weekly Building Challenges and offer crafts and other fun activities that involve building with recycled and other simple materials. These activities reinforce creativity and fine motor skills, which leads to more successful building. There is also plenty of time for campers to play games inside and run around outside (weather permitting).